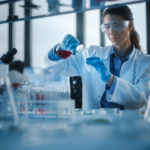 Biotech Centre Roof Design
The construction of biotech centres must overcome a very specific set of challenges. These buildings fall within the critical sector and the expectation is that their roofing systems must be very robust. Specification of fibreglass mat gypsum core cover boards enhances the performance and longevity of roof systems for biotech centres. It can also target improvement in specific areas of building performance, as required by each project.
Moisture ingress is one of the main concerns for biotech centre roofing systems. The roof must protect often expensive and hard to replace equipment and unique collections and samples from moisture ingress. Some facilities require specific humidity and temperature levels to be maintained. Even the smallest leaks and changes to the indoor environment could cause unwelcome service interruptions and damage the invaluable contents.
Fibre glass gypsum core cover boards are installed above the insulation layer of flat or low slope roof build up. They form a flat and homogenous substrate for the installation of waterproofing layers. The fibreglass mat facing is compatible with a variety of roofing materials and helps create a strong, continuous bond with waterproofing membranes. This protects the roof from wind uplift and punctures caused by objects dropped during maintenance, flying debris and hail. 
Biotech buildings with roof parapet systems benefit from improved material compatibility where cover boards are used as a substrate for waterproofing on the roof side of the parapet. Design life of the roof system can be significantly extended through the specification of high performance cover boards.
Gypsum core cover boards have high flexural strength and provide the roof with superior dimensional stability. This is crucial for biotech centres that often house equipment and plant on roofs. Installation of cover boards provides roof access for maintenance of the technology if required.
Non-combustible gypsum core cover and roof boards slow the spread of fire and protect the building from external fire sources and the roof from internal fire spreading into it. They provide biotech buildings with the operational security required.
What are the benefits of DensDeck® Roof Board for biotech centres?
• Dimensional stability
• Roof access
• Fire protection
Roof protection boards
The DensDeck® Roof Board helps protect all types of flat roof build ups from natural forces such as hail and wind. They provide dimensional stability to the roof system and shield the waterproofing membrane from dead loads of heavy plant and sudden impact, such as dropped tools or flying debris, whilst adding additional fire resistance.
TECHNICAL DATA & DOWNLOADS
DensDeck® Prime Roof Board
Thickness (mm)
6.4 (¼ inch)
12.7 (½ inch)
15.9 (⅝ inch)

Length (mm)
2438
2438
2438
Width (mm)
1219

1219
1219
Send a project or specification enquiry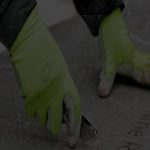 Start your project or simply get specification advice by dropping us a message.
One of our team will be in touch as soon as possible.