Roof Terraces
Roof terraces are designed to increase the amount of outdoor living space by converting underutilised roof areas. Roof terraces are essentially inverted roof systems positioned predominantly over an internal space with access directly from the building. It is possible to build a roof terrace on almost any flat roof. They can also be built on a pitched roof by retrofitting a flat area, however, this can be complex to achieve.
As with any outdoor living space, roof terraces can be timber decked or paved. If the roof space is a larger open area, it is not uncommon to see the application of exposed, slip resistant polymer resins. Some roof terraces feature planted areas and are effectively a combination of a roof terrace and a roof garden.
As is the case of roof garden build ups, the insulation layer is placed above the waterproofing and the air vapour control layer (AVCL) that is installed on top of the roof deck. Many of the considerations for the design of green roofs also apply to roof terrace design.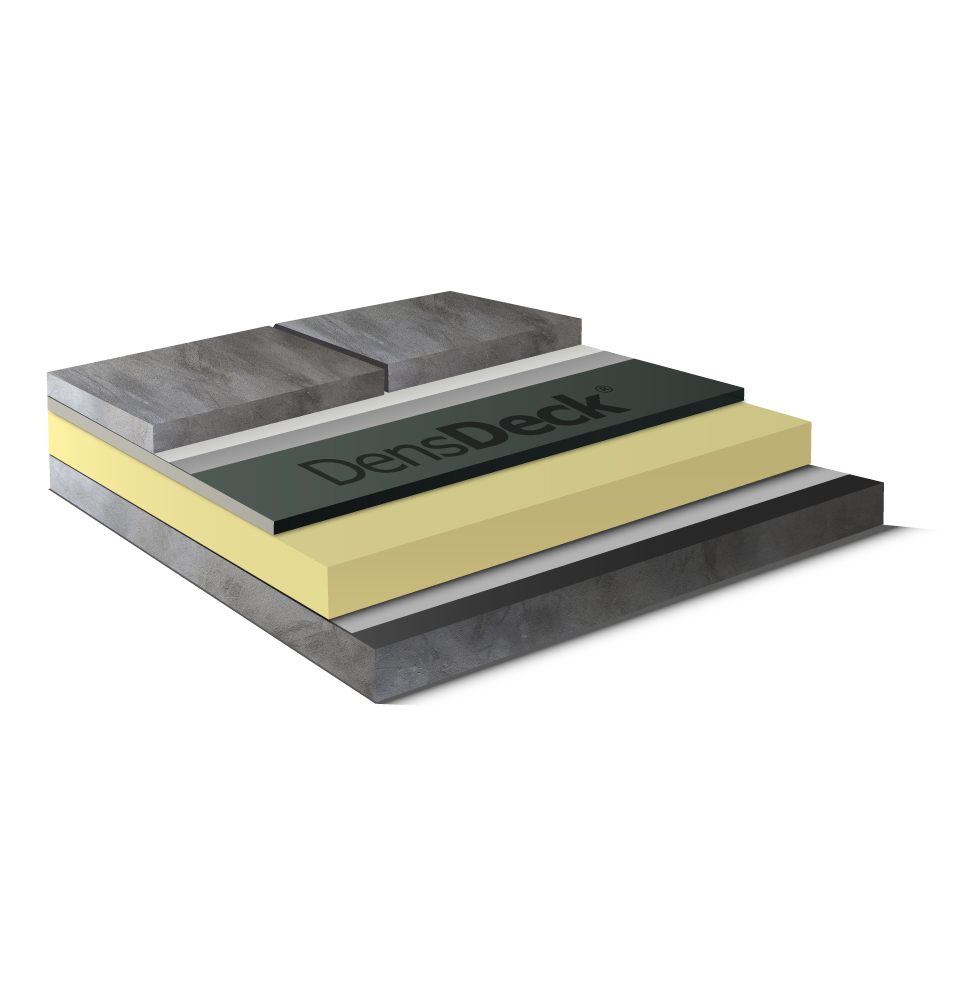 What are the benefits of roof terraces?
• Additional amenity or recreational space
• Increased property value
• Planted over areas can improve the air quality
• Ready access for roof maintenance
What are the benefits of DensDeck® Roof Boards for roof terraces?
Roof terraces need to fulfil the traditional function of a roof, and in addition, need to cope with the extra loads of foot and vehicular traffic. Aside from being waterproof and having adequate drainage, they must provide fire protection and be thermally efficient. The final layer must also be able to withstand heavy winds.
The use of DensDeck® Roof Boards is recommended to protect the insulation layer from compression and the waterproofing membrane from penetration or other damage, especially if heavy foot or vehicular traffic is expected on the roof terrace. Cover and roof boards also improve the acoustic performance of a roof build up, improving occupant comfort.
A cover board enhances the puncture resistance of the roof system, offering a greater level of protection during the installation that continues throughout the lifespan of the roof terrace.
Key benefits of DensDeck® Roof Boards for roof terraces
• Fire protection
• Dimensional strength
• Acoustic performance
• Extended roof design life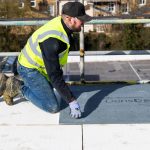 technical data & downloads
DensDeck® Prime Roof Board
Thickness (mm)
6.4 (¼ inch)
12.7 (½ inch)
15.9 (⅝ inch)

Length (mm)
2438
2438
2438
Width (mm)
1219

1219
1219
Send a project or specification enquiry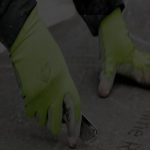 Start your project or simply get specification advice by dropping us a message.
One of our team will be in touch as soon as possible.