Solar panel flat roof
Specification of solar panel flat roofs is rising as we construct more energy efficient buildings that increasingly rely on on-site renewable energy generation. In the UK, the optimal angle for the installation of solar panels, also referred to as photovoltaic or PV panels, is 30-40 degrees. This is a challenge for PV panel installation on a flat roof. Stands or arrays are usually required to achieve an optimum installation angle.
There are typically two options for fixing the PV system onto a warm roof build up, ballasted or mechanical. Mechanically fixed systems are either fitted to the roof deck, requiring penetration of the roof covering, or are fixed via mounting plates that are welded onto the roof membrane. Ballast is used to weigh down the system. In some instances, instead of ballasted, a green roof can be considered. This would use the weight of the growing medium or another substrate to secure the PV panel assembly.
Warm or inverted roof systems can be used for solar panel flat roofs. The difference is the sequence in which roof layers are laid. A warm roof places the insulation below the waterproofing layer. In an inverted roof system, the position of these two layers is reversed.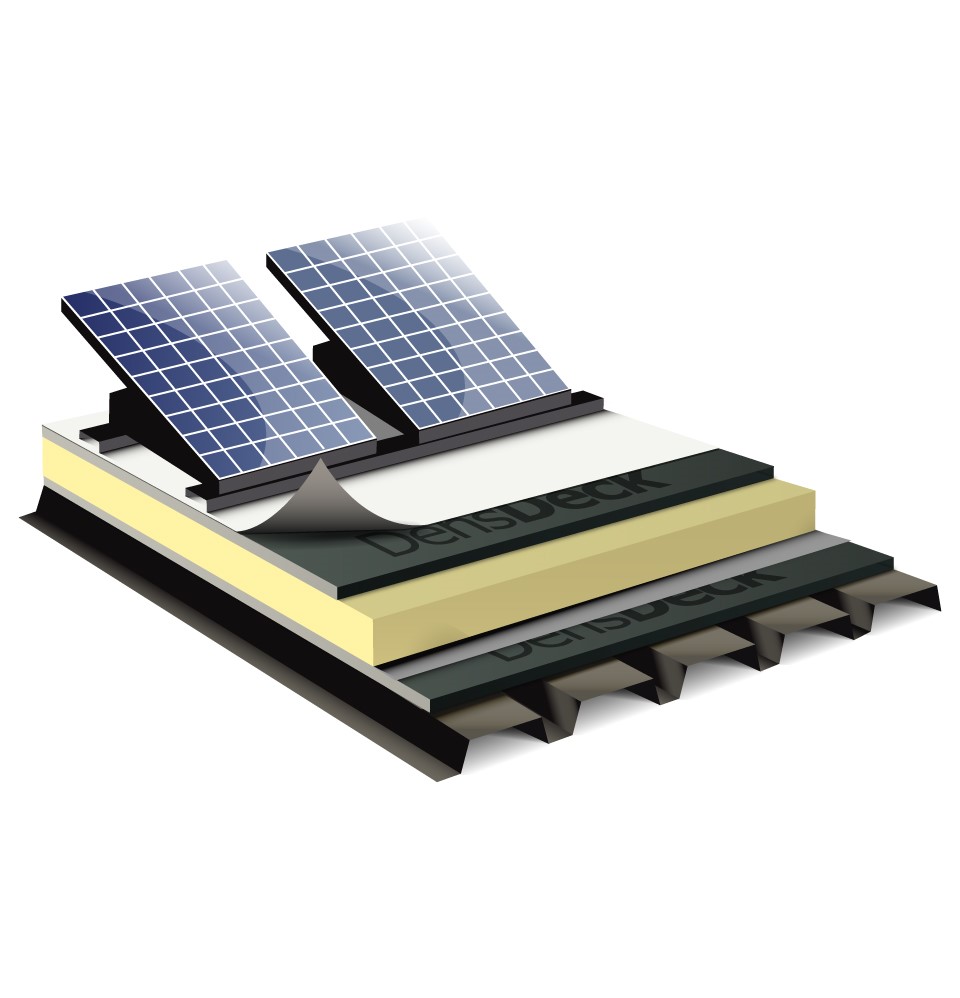 What are the benefits of a solar panel flat roof?
• Increased site source renewable contribution
• Effective energy source for any building type
• Safe and relatively easy to install
• Hidden from view
What are the benefits of DensDeck® Roof Boards for a solar panel flat roof?
Similarly for terrace roofs, green roofs and single ply build ups, the design of a solar panel flat roof must consider the weight of the installation, drainage design and the type of fixings for the PV panel technology. Cover boards are recommended to add strength to the roof system and protect the insulation layer from compression and provide an airtight barrier that improves the acoustic performance of the roof system.
DensDeck® Roof Board cover boards are ideal substrates for a strong bond with the waterproofing membrane. They also protect the membranes from penetration by tools, gravel, or damage that roof traffic can cause.
Installation of cover and roof boards can help increases the fire performance of the roof system. Solar panels pose a fire risk and cover boards can be installed to mitigate this risk and protect the insulation layer in the case of a solar panel malfunction.
Key benefits of DensDeck® Roof Boards for solar panel flat roofs
• Dimensional strength
• Puncture resistance
• Bond strength
• Extended roof design life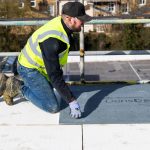 technical data & downloads
DensDeck® Prime Roof Board
Thickness (mm)
6.4 (¼ inch)
12.7 (½ inch)
15.9 (⅝ inch)

Length (mm)
2438
2438
2438
Width (mm)
1219

1219
1219
Send a project or specification enquiry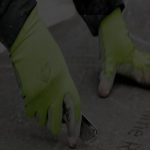 Start your project or simply get specification advice by dropping us a message.
One of our team will be in touch as soon as possible.