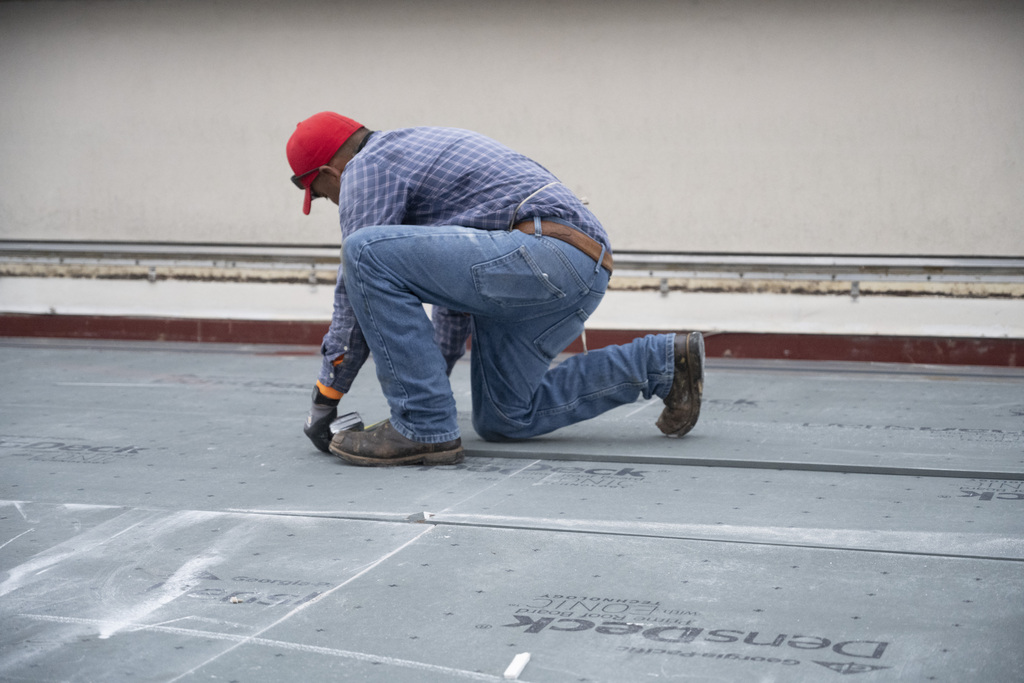 Recovery board in mission-critical facility flat roof refurbishment
FM-approved DensDeck® Prime Roof Board used as recovery board to meet performance requirements in mission critical facilities' flat roof refurbishments.
Project Name:
DensDeck® Prime Roof Board, Penang, Malaysia
Client:
Not advised - microprocessor manufacturer
Specifier:
Sika, Malaysia
Use of recovery board for Project Pelican in Malaysia
FM-approved DensDeck Prime Roof Boards were used as recovery boards to help ensure that the refurbishment of two flat roofs, in mission-critical buildings in Malaysia, met the demanding performance requirements of an international microprocessor manufacturer.
Each of the factories is set within extensive campus facilities. The existing roof coverings of each facility had reached the end of their service life. It was critical that the roofs were refurbished without significant disruption to the buildings and their function, so a recovery board application was seen as the ideal solution. The second key client requirement was for the chosen board to meet international insurance standards.
Project Pelican includes a third factory roof refurbishment which hadn't started at the time of writing but has also been specified with DensDeck® Prime Roof Boards for a recovery board application.
What roof build-ups were the recovery boards installed over?
The two factory buildings currently completed as part of Project Pelican are referred to as KMX and PGX. They are located on Penang Island, off the coast of mainland Malaysia.
Building KMX comprised 30,000 ft2 of a roof system finished with a single-ply membrane. The 20,000 ft2 PGX building was mostly comprised of a steel deck flat roof system that was also finished with a single-ply membrane. A small portion of PGX's roof was a combi flat roof capable of receiving the same recovery board solution.
Using 12.7 mm DensDeck® Prime Roof Board, in a recovery board application, over the existing roof constructions, meant no destructive work was required on either building. Contractors mechanically fixed the non-combustible gypsum board, securing it to the existing roof structure. A new single-ply membrane was installed directly to the DensDeck® Prime Roof Board.
Malaysia's tropical climate, featuring high humidity and monsoon rain, presented a particular challenge for the DensDeck® Prime Roof Board to meet. A typical recovery board solution would have been a locally produced cement composite board.
However, cement composite boards did not meet the required performance standard in a key area for the client – the FM Global (FM) approval insurance standard. Holding this third-party certification made DensDeck® Prime Roof Board the leading specification choice.
Why was FM approval critical for a flat roof recovery board specification?
As a gypsum board, DensDeck® Prime Roof Board offers a variety of performance benefits. It is lighter and easier to cut than cementitious recovery board alternatives, aiding handling and potentially speeding up installation.
It also provides dimensional stability to the roof system, reducing stress on the waterproofing membrane from dead loads of heavy plant and sudden impact (such as dropped tools or flying debris).
In roof refurbishment projects, it can help to improve the acoustic performance and fire resistance of the refurbished system. A specific driver of DensDeck® Prime Roof Board's specification for Project Pelican was its fire performance. The microprocessor manufacturer wanted the recovery board to possess FM approval, and no recovery board produced locally in Malaysia could offer that.
FM Global is a US-based international insurance standard designed to support property loss prevention. Generally speaking, FM approval applies to complete roof assemblies. In the case of the microprocessor factories, we focus on in this case study, the refurbished roof assemblies were not fully tested build-ups. However, the manufacture of DensDeck® Prime Roof Board is covered by FM Approval auditing, giving the client reassurance of ongoing product quality and compliance with applicable test standards .
A key aspect of FM Approval is its fire resistance testing, within whole roof assemblies, which is typically more stringent than local building regulations/codes. It is, therefore, attractive to clients looking to protect high value assets, especially as testing to the FM Approval standard means achieving performance against an international benchmark.
Andy Law, Head of TM Building System at Sika in Malaysia, said: "The local climate presented unique challenges for the roof system refurbishments on this project. The recovery board solution had to meet those challenges and fulfil the client's requirement for FM approval. DensDeck® Prime Roof Boards showed they could do both and were the preferred choice of recovery board."
Find out more about using DensDeck® Prime Roof Board as a recovery board, and explore the benefits it offers in roof refurbishment projects. For support with your mission-critical building or other commercial projects, contact us.