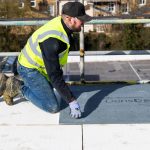 Acoustic Flat Roof Board
Acoustic flat roof boards are cover boards designed to reduce the sound penetrating through a roof assembly. Structures such as airports, buildings in urban environments or educational and public spaces such as libraries and schools have a desire to design noise and vibrations out. Buildings such as factories with increased levels of noise, due to internal machinery for instance, may conversely try to keep the noise in and prevent it from disrupting surrounding buildings and the environment.
Roofs play an important role in the acoustic strategy of any building as they are exposed to both airborne sounds from air and road traffic but also impact sounds such as rain. Flat roofs, especially metal and lightweight roofs, require careful design considerations to ensure their desired acoustic performance.
Gypsum core cover boards with their higher density cores have superior sound transmission and sound insulation qualities that help absorb or reduce noise. They can be installed in single or multiple layers to help achieve the required levels of acoustic performance. Acoustic flat roof cover boards are a practical solution for acoustic control that is economical, easy to install and does not impact design flexibility.
Noise pollution can have a devastating impact on occupant comfort, health, and productivity. Designing roofs with a cover board can help achieve better acoustic performance and therefore more comfortable buildings.
What is the application of acoustic DensDeck® Roof Boards?
DensDeck® Roof Boards are effective in reducing the sound impact as their high-density gypsum core helps reduce sound transmission and provides sound insulation. Our cover boards are often specified in environments where high external noise is expected, such as for airports. Here the boards help minimise the impact of sound on building users, enhancing occupant comfort, and improving their experience.
In urban areas, cover boards can be installed to help design external noise out of a building. They are used in museums, biotechnology centres, libraries and education and healthcare sectors to help minimise the impact of noise on health and productivity of occupiers and in the design of healthier buildings.
DensDeck® Roof Boards can also help minimise noise pollution from buildings such as factories, protecting surrounding buildings and environment. Roof systems designed as holistic systems using DensDeck® Roof Boards can achieve significant acoustic performance improvements, enabling architects to design, and specifiers to deliver, healthier buildings.
Acoustic Flat Roof Board
What are the benefits of acoustic flat roof boards?
• Increased acoustic performance
• Increased occupant comfort
• Noise pollution reduction
TECHNICAL DATA & DOWNLOADS
DensDeck® Prime Roof Board
Thickness (mm)
6.4 (¼ inch)
12.7 (½ inch)
15.9 (⅝ inch)

Length (mm)
2438
2438
2438
Width (mm)
1219

1219
1219
Roof protection boards
The DensDeck® Roof Board helps protect all types of flat roof build ups from natural forces such as hail and wind. They provide dimensional stability to the roof system and shield the waterproofing membrane from dead loads of heavy plant and sudden impact, such as dropped tools or flying debris, whilst adding additional fire resistance.
Send a project or specification enquiry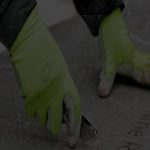 Start your project or simply get specification advice by dropping us a message.
One of our team will be in touch as soon as possible.