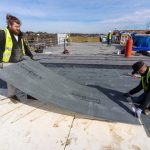 Weather Resistant Roof Board
Weather resistant roof boards are high performance gypsum core cover boards with fibreglass mat facings designed to help protect the roofing system from adverse weather conditions and extend its design life. Cover boards are installed above the insulation layer and below the waterproofing layer of adhered or partially adhered and mechanically fastened roof systems. They lend themselves well in large span commercial buildings, where they provide superior dimensional stability. Specification of cover boards is not limited to single ply flat roofs and extends to low slope, green, solar, and metal roofs and roof terraces of new buildings and roof refurbishments alike.
Fibreglass mat gypsum core cover boards can be used as a compatible substrate for a variety of waterproofing coverings. The thin and light boards provide a homogenous base that creates a robust and even bond with waterproofing membranes. This improves wind uplift resistance of the roof build up. The fibreglass facing of the cover board helps protect the membrane from repeat hail strikes or accidental puncture by flying debris.
By better protecting the building envelope from impact and structural damage, the cover board reduces the possibility of water ingress throughout the design life of the roof system.
What is the application of weather resistant DensDeck® Roof Boards
DensDeck® Roof Boards are effective as a high performance weather resistant barrier that helps protect roofing assemblies of both commercial and industrial buildings. Our cover boards help address the specific challenges of commercial structures in a variety of critical sectors such as datacentres and biotechnology centres. They enhance the building performance of new buildings as well as refurbishment projects.
Gypsum core cover boards have varying levels of moisture resistance. DensDeck® Prime Roof Boards are enhanced with the patented EONIC™ Technology which doubles the resistance of the cover board to moisture. The cover board offers the benefit of 5% total water absorption resistance by weight, and 1-gram nominal surface water absorption performance on both sides of the board.
The strong, flat, and homogenous DensDeck® Roof Board is the ideal substrate for installation of adhered, semi-adhered and mechanically fixed membranes. The strong bond with the membrane increases vertical pull strength of the roof assembly and helps protect it from wind uplift. The membrane is also better protected from repeated hail strikes and flying debris. The extended design life and reliable, robust performance help prevent service interruptions in critical sectors and helps to keep maintenance requirements low.
Weather Resistant Roof Board
What are the benefits of weather resistant roof boards?
• Wind resistance
• Moisture resistance
• Hail resistance
• Impact and puncture resistance
TECHNICAL DATA & DOWNLOADS
DensDeck® Prime Roof Board
Thickness (mm)
6.4 (¼ inch)
12.7 (½ inch)
15.9 (⅝ inch)

Length (mm)
2438
2438
2438
Width (mm)
1219

1219
1219
Roof protection boards
The DensDeck® Roof Board helps protect all types of flat roof build ups from natural forces such as hail and wind. They provide dimensional stability to the roof system and shield the waterproofing membrane from dead loads of heavy plant and sudden impact, such as dropped tools or flying debris, whilst adding additional fire resistance.
Send a project or specification enquiry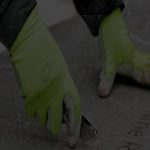 Start your project or simply get specification advice by dropping us a message.
One of our team will be in touch as soon as possible.