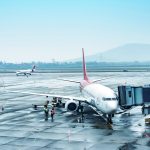 Airports
Airports, hangar and maintenance buildings, car parks and other buildings in the aviation sector present their own set of challenges. These projects have intensive schedules and once finished, the highest level of building performance is expected to keep passengers comfortable and safe. The performance enhancing capabilities of fibreglass mat gypsum cover boards are ideal for specification in the aviation sector.
Airport roof system design utilises a variety of roof systems to achieve striking aesthetic impacts whilst balancing the need for acoustic and fire performance. These include green and solar roofs, flat and low slope single ply systems, parapet roof systems, roof terraces and special designs that combine various roof types.
The finished roof assembly is expected to be robust and to have a long design life that will keep any servicing or maintenance disruption to a minimum. Cover boards are installed above the insulation layer and form a homogenous substrate compatible with a wide range of roofing materials. They help form a robust bond with roofing membranes that extends the life of the roof, helps protect it from wind uplift and shields the roof membrane from incidental damage by flying debris.
The roofs of airport buildings tend to have wide spans. Cover boards offer mechanical and dimensional strength that improves the loading capacity of the roof so it can accept foot traffic and plant and technology installations.
The most significant requirements for buildings in the aviation and airport industries are exceptional acoustic performance and fire performance. This is to ensure the comfort and safety of passengers and employees. By installing cover boards on the external face, and roof boards on the internal face, of the roof build up, airborne noise can be kept out of the passenger terminals and machine borne noise can be kept within the maintenance buildings. Similarly, when used as a fire barrier the cover board prevents external fire sources from penetrating the building and the roof board helps protect the roof space from internal fire spread.
What are the benefits of DensDeck® Roof Board for airports?
• Exceptional acoustic performance
• Dimensional stability
• Easy access to the roof
• Fire barrier over steel decks and combustible roof decks
Roof protection boards
The DensDeck® Roof Board helps protect all types of flat roof build ups from natural forces such as hail and wind. They provide dimensional stability to the roof system and shield the waterproofing membrane from dead loads of heavy plant and sudden impact, such as dropped tools or flying debris, whilst adding additional fire resistance.
TECHNICAL DATA & DOWNLOADS
DensDeck® Prime Roof Board
Thickness (mm)
6.4 (¼ inch)
12.7 (½ inch)
15.9 (⅝ inch)

Length (mm)
2438
2438
2438
Width (mm)
1219

1219
1219
Send a project or specification enquiry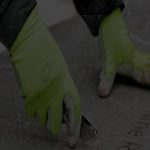 Start your project or simply get specification advice by dropping us a message.
One of our team will be in touch as soon as possible.