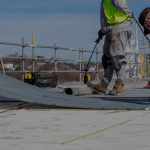 Roof Access Board
A roof access board is a cover board designed to help with static loads and to accommodate the mechanical load of heavy foot and vehicular traffic on roof systems of residential and commercial buildings. This type of cover board improves the dimensional stability of the roof assembly and helps protects the roof membrane, and they can be specified with most flat and low slope roof build ups, including solar, green, and metal roof systems and roof terraces.
Gypsum core boards have superior compressive strength and are relatively light when compared to cementitious cover boards or high density wood boards. They are installed between the insulation and the waterproofing layer of a roofing assembly and help protect both layers.
Gypsum core cover boards with fibreglass mat facers provide a compatible, homogenous substrate for the installation of waterproofing membranes that results in a stronger, more robust bond. This allows roof access and helps protects the membrane from punctures caused by incidental impact or dropped tools during the construction stage and maintenance visits. Cover boards also help to protect the insulation layer from compression caused by mechanical loads and prevent any damage that could affect its thermal performance.
What is the application of roof access DensDeck® Roof Boards?
DensDeck® Roof Boards provide an effective working platform for roofing assemblies under construction. The cover board can accommodate loads of increased foot traffic and heavy roof equipment installations and help protect the roof assembly throughout its design life. Roof access cover boards can be specified for increased protection of both commercial and industrial buildings. Datacentres, biotechnology centres and airport buildings that require roof access for maintenance benefit from the robust protection DensDeck® Roof Boards provide.
Our DensDeck® Roof Board is the ideal substrate for installation of mechanically fixed, semi adhered and adhered roof membranes. The flat, homogenous surface increases product compatibility and allows for an even spread of adhesive. The strength of the board enhances the fastener pull performance. This means a stronger bond between the roofing membrane and the cover board that helps protect the membrane from penetrations by human actions, such as tools dropped during a maintenance visit, or incidental punctures by flying debris.
The high dimensional strength of the DensDeck® Roof Board helps protect the insulation layer from compression that foot traffic or heavy plant installed on the roof of a building could cause.
Roof Access Board
What are the benefits of roof access boards?
• Impact resistance
• Puncture resistance
• Resistance to human caused events
• Resistance from the dynamic impact of flying debris
• Improves load distribution for heavy foot and vehicular traffic and plant installations
TECHNICAL DATA & DOWNLOADS
DensDeck® Prime Roof Board
Thickness (mm)
6.4 (¼ inch)
12.7 (½ inch)
15.9 (⅝ inch)

Length (mm)
2438
2438
2438
Width (mm)
1219

1219
1219
Roof protection boards
The DensDeck® Roof Board helps protect all types of flat roof build ups from natural forces such as hail and wind. They provide dimensional stability to the roof system and shield the waterproofing membrane from dead loads of heavy plant and sudden impact, such as dropped tools or flying debris, whilst adding additional fire resistance.
Send a project or specification enquiry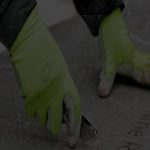 Start your project or simply get specification advice by dropping us a message.
One of our team will be in touch as soon as possible.