What is a roof cover board?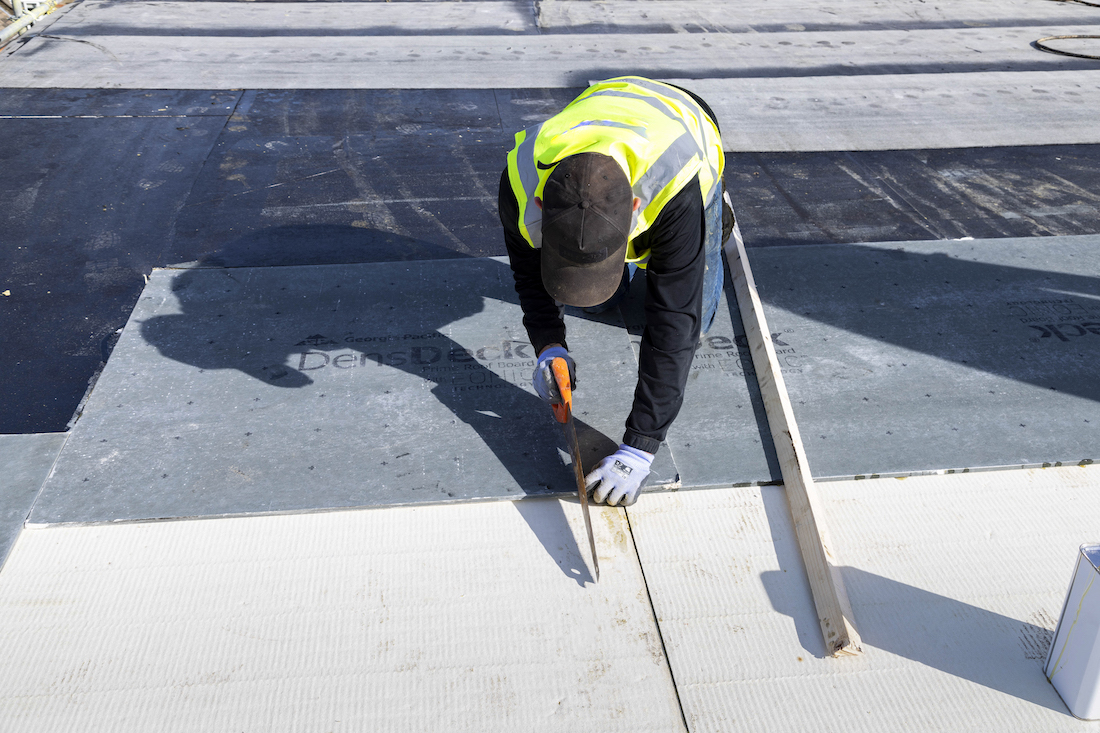 Roof cover boards are thin substrates manufactured from various materials, traditionally installed between the insulation and the waterproofing membrane layer of a flat roof system. The type of cover board used should reflect the project specifics. Modern commercial and industrial flat roof construction is increasingly relying on gypsum-based cover boards to improve the performance of solar PV roofs, metal roofs, green roofs, and roof terraces.
Why use gypsum cover boards?
At the same time as being lightweight and easy to handle, gypsum cover boards are exceptionally robust. When installed between the insulation and the waterproofing layer of a flat roof build-up, cover boards offer a high level of protection for the layers beneath. This is especially important for the insulation layer, which could otherwise be compromised by foot traffic or heavy plant and equipment compressing it.
A cover board provides a firm, flat, and stable surface to which a waterproofing membrane can be adhered or mechanically fixed. The cover board removes any irregularities that other substrates may have, resulting in an aesthetically pleasing roof surface finish. 
Gypsum cover boards are semi-rigid, and unlike other, for example, cementitious cover boards, they can be specified for curved and barrel roofs. However, this flexibility is advantageous across all roof types as it helps accommodate building movement. The cover board can also absorb differential movement caused by wind uplift, protecting the waterproofing membrane and the whole roof system. As a result, the maintenance requirements for the roof are reduced, and its life cycle is extended.
The chemical make-up of gypsum offers further benefits, such as enhanced fire resistance that can help to restrict external fire spread. When used as roof boards, installed on the roof deck below the insulation layer, the board can also help to slow internal fire spread. Cover boards are also frequently used for effective sound attenuation.
Gypsum cover boards can be cut to size in situ without the need for specialist tools. They are relatively light and compact, which means fewer delivery journeys, easier installation, and less pressure on on-site resources.
What are the advantages of fibreglass mat face gypsum cover boards?
Fibreglass mat face gypsum cover boards retain all the performance enhancing characteristics that a high density gypsum core offers with the added benefits of increased fire performance. Fibreglass mat facers on gypsum cover boards also improve compatibility with waterproofing membranes and help achieve stronger adhesion. This increases wind uplift resistance of the roof build-up. The combination of the even surface of the cover board and the improved adhesion strength the fibreglass mat face encourages helps protect the roof membrane from accidental punctures caused by dropped tools, flying debris and repeated hail strikes. 
Cover boards such as the DensDeck® Prime Roof Board go further by incorporating EONIC® Technology. We will consider DensDeck® Prime Roof Boards in more detail to understand how the product enhancements benefit a building.
What are the performance markers of DensDeck® Prime Roof Boards with EONIC
®

Technology?

The DensDeck® Prime Roof Board includes EONIC® Technology, a patent-protected enhancement that doubles its resistance to moisture when compared to alternative gypsum cover board. This marked performance improvement means the manufacturing specifications have max 5% total water absorption resistance by weight and 1-gram surface water absorption performance on both sides of the cover board. These values are specified per ASTM C1177.

When tested for vertical pull strength by PRI Construction Material Technologies, DensDeck® Prime Roof Board outperformed other gypsum cover boards available on the market by 74% on the front and 14% on the back. Compared to alternative coated glass mat cover boards, the vertical pull strength performance of DensDeck® Prime Roof Board was 2.5x more on the face and 7x more on the back.

Independent tests were undertaken to establish the acoustic performance of the cover board in diverse roof assemblies. The tests confirmed that the board helps minimise noise intrusion across various building types, even in high noise environments such as airports.

Contact us to find out more about DensDeck® Prime Roof Boards and how your project can benefit from their performance enhancing qualities.

For more information regarding testing, please refer to our technical datasheets. Testing comparison based on third party testing conducted by PRI Construction Materials Technologies in October 2017. ½" boards tested in accordance with ASTM C209.
Contact Us
Start your project or simply get specification advice by dropping us a message.
One of our team will be in touch as soon as possible.