What are the functions and benefits of a roof cover board?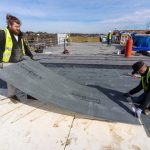 Roof cover boards are commonly used in flat and low slope commercial roofing to increase the durability of the roof assembly. Material innovation and advances in manufacturing mean that roof cover boards are no longer limited to this function. They have become versatile building components that can add a variety of other valuable benefits to a commercial roof system, including,
Improving the integrity of the roof design
Additional weather protection
Providing a substrate for the installation of a waterproofing membrane
Increasing acoustic comfort
And offering enhanced fire performance
A range of materials are used to manufacture roof cover boards, from traditional timber, wood fibre, cement, gypsum, and gypsum fibre. Cementitious and gypsum fibre roof cover boards are prevalent in modern commercial roofing because of their range of performance benefits. This blog will concentrate on the fibreglass mat facer gypsum core cover board.
Fire performance and fibreglass mat facer gypsum core coverboard
As the title suggests, this type of roof cover board is manufactured from gypsum and fibreglass. Both materials are classed as non-combustible, but the chemical make-up of gypsum gives gypsum core cover boards their fire-resistant capabilities. Gypsum contains 21% chemically combined, crystalised water to 79% inert calcium sulphate.
In practice, this means that should a fire break out, the energy from the heat will vaporise the crystalised water. This Calcines the gypsum and a natural, fire-resistant barrier is created. Some gypsum core coverboards, such as the DensDeck® Roof Board, are enhanced with fibreglass mat facers. These act as the first line of defence in case of a fire.
A DensDeck® Roof Board can be installed in one of two positions in a roof assembly (or both). Each of these will have different fire performance benefits. A roof board is installed on top of a roof deck and below the insulation layer and can help slow the internal spread of fire. The other installation option is a cover board on top of the insulation layer and below a waterproofing membrane. In this position, the fibreglass mat faced gypsum core board helps protect the building from external fire sources.
The fire performance of the gypsum core board may differ by manufacturer. DensDeck® Roof Board has been classified as non-combustible in accordance with ASTM E136. The cover board was used for Hamad International Airport's striking stainless steel standing seam roof build-up in Doha. You can read more here.
Can cover boards improve acoustic comfort?
Gypsum core and cement roof cover boards are frequently specified for train stations, airports, and buildings where the management of acoustic risk is critical for the comfort of users. Whilst the mass of cement boards may imply that they are better suited to acoustic control, a high level of acoustic performance can be achieved with the lighter gypsum core cover board.
As is the case with fire performance improvements, the roof or cover boards can be installed in two positions within a roof assembly, and each will have a different impact on the acoustic performance. As roof boards directly on the roof deck, they reduce noise transmission through a roof. To help with acoustic absorption, cover boards are often installed over the insulation layer.
Various roof and cover board configurations can offer acoustic benefits to suit a specific roof build up. For example, roof boards can be supplemented with cover boards installed over the insulation. Some roof build-ups, use roof boards and place two layers of a cover board over the insulation layer. In certain build-ups a thin insulation layer is used between the first and the second cover board. Acoustic testing will confirm that the roof build-up satisfies the design requirements.
What kind of weather protection does a cover board provide?
Installation of cover boards for weather protection has not been standard practice in the UK outside Scotland. However, this is changing rapidly in light of the increased frequency and force of adverse weather instances in Europe, and the UK are indicative of a long-term trend of storms tracking towards this area.
Cover boards can improve the wind uplift resistance of the roof assembly and protect the waterproofing membrane from punctures caused by hail or flying debris in adverse weather conditions. The performance of various gypsum core cover boards in these areas differs considerably.
Wind uplift
Mat faced gypsum core cover boards provide a homogenous substrate that increases material compatibility with waterproofing roof membranes, improves adhesion for adhered and partially adhered membranes, and provides a robust platform for mechanically fastened roof covering.
The vertical pull strength of the cover boards plays a vital role in the ability of the roof to withstand a high uplift force. Similarly, to acoustic and fire performance, wind uplift resistance of roof build ups is independently tested. Roof assemblies with DensDeck® Roof Boards are FM tested and a large amount of data is available to confirm wind uplift resistance of up to 990 psf (pound per square foot), depending on the composition of the roof system. If we take steel deck and single ply membrane roof assembly that uses DensDeck® Roof Boards, up to 435psf is achievable.
Moisture protection
There are two types of cover boards designed to provide moisture resistance for the roof assembly layers installed below. Whilst some cement boards may absorb moisture, fibreglass gypsum core cover boards are designed to resist it. This difference is essential when we consider that the cement boards are considerably heavier when dry, and if exposed to moisture, the extra weight may pose a design challenge.
Fibreglass mat faced gypsum cover boards have a high moisture resistance, but the exact performance will vary by manufacturer. An independent moisture resistance test conducted by PRI Construction Materials in 2017, in accordance with ASTM C473, is a good illustration of the difference between various types of gypsum fibre boards and DensDeck® Prime Roof Boards with proprietary EONIC® Technology. The test showed that standard gypsum fibre boards absorb 132% more water than DensDeck® Prime Roof Boards. Alternative coated glass gypsum boards perform better yet still absorb 75% more water than DensDeck® Prime Roof Boards.
The latter figure indicates the considerable performance gap between the various available products on the market.
Moisture resistance may not be the driving factor for every project, but it is pivotal in mission critical sectors and for large transport and infrastructure projects such as airports with a requirement to seal the building as quickly as possible. Appropriate assessments will inform the exact specification of the roof build up and the suitable installation methods to achieve this. In datacentres and biotech facilities, DensDeck® Prime Roof Boards offer enhanced moisture protection that can help reduce maintenance downtime to a minimum.
Additional benefits of DensDeck® Roof Board specification
There are additional practical benefits that DensDeck® Roof Boards can offer. They are ideal as a walkable substrate that protects the insulation layer from compression and allows for a faster installation of roof membranes and topcoats. The substrate also protects the waterproofing membrane from the risk of puncture by dropped tools, repeat hail strikes, heavy plant installed on a roof or flying debris.
Roof cover boards can also help achieve a more aesthetically pleasing finish where the cover boards stop the transfer of irregularities from a substrate to the roof membrane.
Despite the various performance benefits, adding cover and roof boards is often overlooked. This is perhaps because they are historically understood as components designed for roofs that need high impact resistance. The commercial value of the roof and cover board can be realised through durability enhancement. A study by FM Insurance Company Limited's (FMI) conducted in the US in May 2020 showed that cover board could extend the median life expectancy of a single ply membrane roof system by four years and save approximately £11 per m2 on maintenance costs over its 20-years lifespan.
Contact our specialist team to learn more about the functions and benefits of DensDeck® Roof Boards and discuss how they help with your low slope roofing project.
Contact Us
Start your project or simply get specification advice by dropping us a message.
One of our team will be in touch as soon as possible.