What are the benefits of a flat roof recovery board?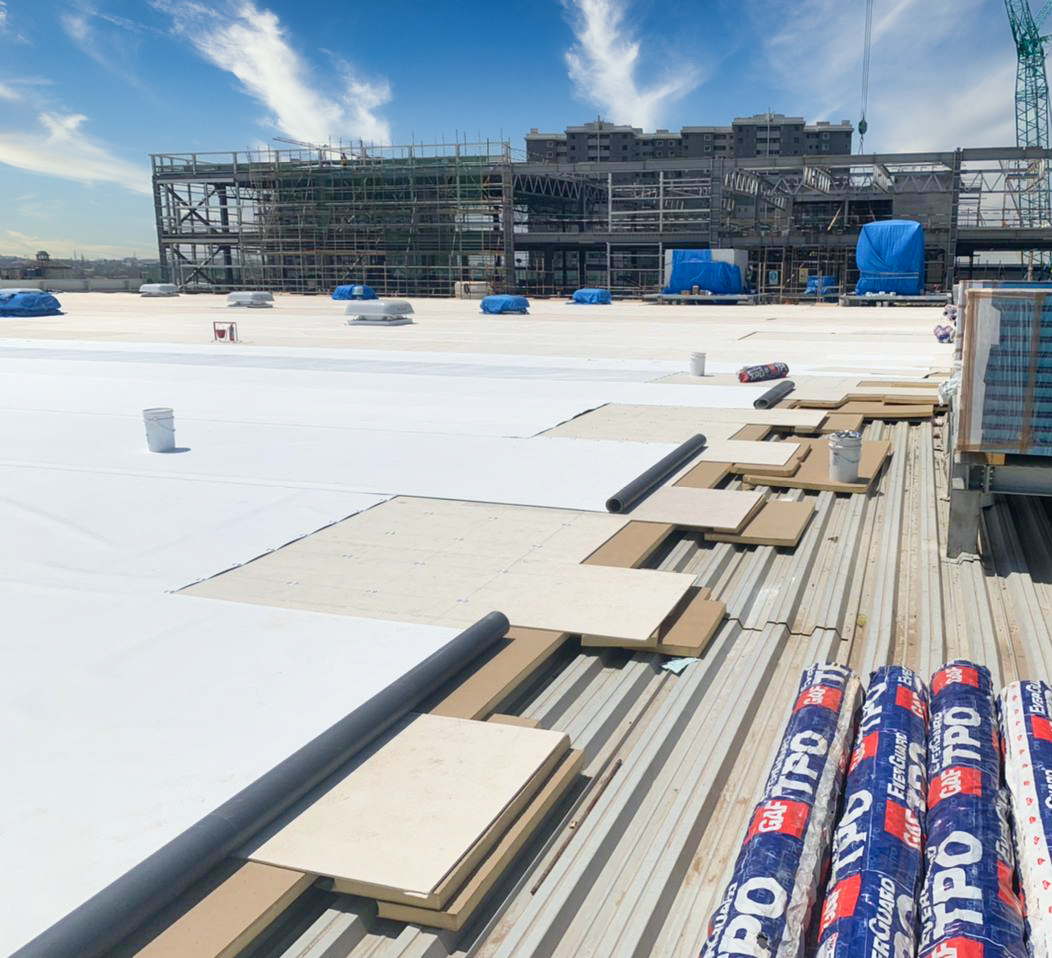 What are the benefits of a flat roof recovery board?
Using a flat roof recovery board for roof refurbishment projects can bring many benefits that combine to increase the robustness and resilience of the finished roof project.
A flat roof recovery board is a firm, flat and strong substrate board placed directly on top of the existing roof membrane. The refurbishment's new roof covering can then be directly adhered or mechanically attached to the flat roof recovery board.
If a thermal upgrade is required as part of the refurbishment, a roof cover board should be used over the insulation layer. This FAQ will only address the use of flat roof recovery boards.
Flat roof recovery boards can bring the following benefits when used as part of a flat roof refurbishment:
Enhanced integrity and durability
High density flat roof recovery boards can provide support to the waterproofing layer and make it more resilient to any potentially damaging events such as dropped tools or equipment during roof maintenance or flying debris due to high winds.
Flat roof recovery boards with good compressive strength can help spread static loads on the roof, reducing the stress on the new waterproofing layer.
Increased resistance to fire
If a non-combustible flat roof recovery board is specified, it introduces an additional layer of fire resistance to the roof build-up and potentially slow the spread of any external fire across the roof.
Acoustic performance
The acoustic performance of a refurbished roof may also be enhanced by the specification of a dense flat roof recovery board. The extra mass it provides in the roof build-up can help reduce the sound transmission of external sources of noise to the inside of the building .
Where sound sensitive buildings are being refurbished, such as educational or public spaces, schools, or libraries, specifying flat roof recovery boards may help achieve the required level of acoustic comfort in the building.
Improved weather protection
A flat roof recovery board provides a smooth surface for the waterproofing layer to be adhered to or attached to. Gypsum core recovery boards that feature fibreglass mat facers can also improve the compatibility with adhered waterproofing membranes and promote a more even spread of adhesives. This can help improve membrane bond strength, thus helping increase the wind uplift resistance of the waterproofing layer.
The extra strength and rigidity provided by a dense flat roof recovery board may help to increase the wind uplift resistance. Boards that are mechanically fixed through to the deck, make the roof less prone to vibrations as well.
The recovery board helps improve the strength of the roof build up which makes it less likely for depressed areas to develop where ponding can occur, reducing the chances of leaks occurring in the building.
Installing flat roof recovery board directly underneath the waterproofing surface can help provide puncture resistance against hail.
If you are considering specification options for your next flat roof refurbishment project, Georgia-Pacific offers a range of non-combustible, glass mat faced gypsum core flat roof recovery boards that are compatible with a wide range of waterproofing systems.
If you would like to learn more about DensDeck® Roof Boards and how when used as flat roof recovery boards they can be used to enhance the performance of flat roof refurbishments, please contact our team for advice today.
Contact Us
Start your project or simply get specification advice by dropping us a message.
One of our team will be in touch as soon as possible.