Cement board vs fibreglass mat gypsum board for roof protection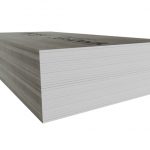 In this post we compare two of the most frequently specified high performance cover boards: cement boards and fibreglass mat faced gypsum boards. Cover boards are already a key component for roof build-ups of mission critical projects. Their specification is also on the increase for a variety of roof types in buildings across sectors, as we look to improve the performance of our built environment. The performance criteria will guide the choice of a cover board type for a project.
Cement boards are used as cover or roof boards within the roof build-up. This means they are installed over the insulation and below the waterproofing layers or be installed directly on the roof deck, below the insulation layer. Cement boards are compatible with selected liquid applied membranes, and cold applied bituminous roofing solutions.
Fibreglass mat faced gypsum boards can be used as cover boards. The boards are compatible with adhered, part-adhered, and mechanically fastened membranes and can also be specified with cold, hot and torch applied modified bitumen roofing solutions.
Why does moisture resistance matter if the cover boards aren't directly exposed to elements?
Moisture resistance is a consideration for cover board specification. Cover boards should not be left exposed to moisture as the absorption of it can impact the long term performance of the cover board. Cement boards available on the market have natural ability to absorb moisture. It is crucial to consider the weight of the cement board and the effect any extra weight of the retained moisture may have on the roof assembly.
In contrast, gypsum cover boards are designed and engineered to resist moisture absorption. The type of gypsum cover board, and the technology used, results in varying moisture absorption performance. Independent testing conducted by PRI Construction Materials Technologies (US) in October 2017, and in accordance with ASTM C473, showed that DensDeck® Prime Roof Board enhanced with the patented EONIC® Technology, significantly outperforms other gypsum cover boards. Lower performing coated glass mat gypsum absorbed 76% more water, and gypsum fibreboard 132% more water, than ½" (1.27cm) DensDeck® Prime Roof Board.
Which cover boards should I choose to protect the roof from foot traffic and wind uplift?
The high compressive strength of a cover board provides robust protection for the insulation layers in the roof build-up from foot traffic and heavy plant installed on the roof.
The strong bond between the cover board and the roof membrane increases the resistance of the roof assembly to wind uplift. There is limited data on roof assemblies with cement boards that achieve a wind uplift performance of up to 180psf (pound per square foot) and have been tested by FM (Factory Mutual). In comparison, a large amount of data is available on roof assemblies with DensDeck® Prime Roof Boards that were FM tested up to 225psf and even 270psf (with limited data).
Cement boards are rigid and have excellent compressive strength, but they are also brittle. Heavy loads and frequent or heavy foot traffic can cause the board to fracture. Fibreglass mat gypsum cover boards with a high-density core have high compressive strength but are semi-rigid and can withstand static and dynamic loads.
Contact Us
Start your project or simply get specification advice by dropping us a message.
One of our team will be in touch as soon as possible.