Request a CPD
It's never been more critical to understand the performance requirements of the building envelope. Our series of CPD UK certified CPD materials will introduce you to the considerations for flat roof specification; focusing on risk, performance & FM approval.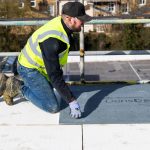 CPD 1 – What are roof cover boards?
Roof cover boards are found under the waterproofing layer in a typical roof build-up and can bring many benefits to a commercial building such as added fire protection, improved weather protection, enhanced integrity and durability as well as increased acoustic performance.
Overview of a roof cover board
Roof cover board benefits
Suitable roof types
Applications of roof cover boards
Testing & approvals
CPD 2 – Roof cover board fire performance and FM approvals
Roof cover boards offer added fire protection and are key additions to mission critical commercial buildings such as data centres, biotech facilities and other buildings that contain sensitive or costly contents. FM approved build-ups also tend to be a requirement for these applications. Our CPD 'Roof cover board fire performance and FM approvals' covers;
Overview of a mission critical environments
Roof cover board benefits for these applications
Fire performance
FM approval needs and benefits
Request a CPD
To request a CPD please fill out the form below & one of our team will be in touch as soon as possible.