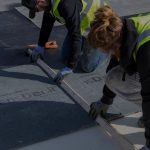 Protection cover board for flat roof coverings
DensDeck® Roof Board is a high performance gypsum roof protection board that enhances the performance of commercial roofs. DensDeck® Roof Board is most suited to projects where high performance roofs are essential; such as airports, data centres & biotech.
Roof protection cover boards
DensDeck® Roof Board helps reduce fire risk, improves acoustic performance, provides dimensional stability to the roof system and shields the waterproofing membrane from damage.